Important Update:
Nicholson and Cates has extended the Fraser Wood Siding Cash Back Rebate Promotion until July 31, 2020.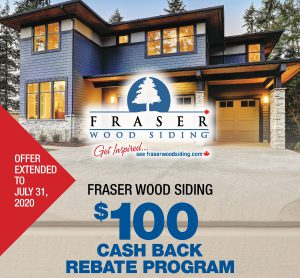 Earn $100 Cash Back for every 500 square feet of Fraser Wood Siding purchased between April 1 – July 31, 2020
The rebate submission process is easy; purchase Fraser Wood Siding and then submit your rebate form along with proof of purchase. Rebate submissions can on-line niccates.com, by fax (905) 335-2328, or by mail (see form for address).
All Fraser Wood Siding profiles and prefinished shingles  are included in the calculation. Trim and accessories are not included in the square footage calculation. See rebate form for complete details and siding calculator. Offer valid for Ontario residents only. Rebate offer is valid for consumer/contractor purchases only (no dealers).
Contact Nicholson and Cates Limited for more details!  1-800-263-6223