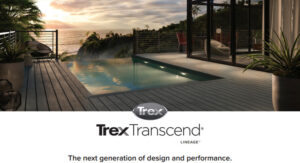 Trex Co. has expanded the Transend decking line by introducing Trex Transcend® Lineage™. This new Transcend product consists of elevated aesthetics with nature-inspired tones and textures, and enhanced performing features. Transcend Lineage is a new approach to aesthetics, with a linear embossing pattern and a lighter colour palette.
According to Adam Zambanini, President of Residential Products for Trex – Transcend revolutionized the composite decking category when it was first introduced to the market in 2010, offering unprecedented aesthetics and performance. Now Lineage represents a natural extension of this with an evolved sense of style that reflects today's design trends and lifestyle.
Trex Transcend ® Lineage ™ is available in two colours: Rainier and Biscayne. Rainier is an airy, mountain grey, while Biscayne is a light coastal brown.
Trex Lineage boards are engineered to reflect the sun and to keep your deck cool*. Just like Trex Transcend Tropicals and Earth Tones, Lineage boards are fade, stain, scratch, and mold resistant and are backed with a 25-year Limited Residential and Fade and Stain Warranty.
*Although Trex Transcend Lineage is designed to be cooler than most other composite decking products of a similar colour, on a hot sunny day it will get hot. On hot days, care should be taken to avoid extended contact between exposed skin and the deck surface, especially with young children and those with special needs