Light Trim Siding Solutions offers high quality extruded aluminum trim profiles that work together to create one complete system. Light Trim profiles come in 10' lengths and are made from ultra durable aluminum. A wide assortment of profiles are available offering a variety of design options. Popular colour options white, black and bright sliver are readily available for quick shipment. Trims can be colour matched with James Hardie Statement Collection and custom colours are available, however, there are additional lead times.
Light Trim manufactures profiles that are compatible with major siding manufactures including:
James Hardie HardiePlank
James Hardie HardiePanel
James Hardie Aspyre Collection (V-Groove, Channel and Shiplap profiles)
St-Laurent Fiber Cement
Fraser Wood Siding – Evolution and Classic (excluding Classic Bevel) profiles
Light Trim products are incredibly durable and feature many built-in water-management components to meet the installation requirements by James Hardie and St-Laurent fiber cement.
2-Piece Trims
High-efficiency 2-piece trims speed up the installation process in tight areas to quickly place fiber cement on the wall. The top cap is easily clipped into place to complete the assembly. 2-piece trims options are available for J-trims, U-trims and outside corners.
Design and Innovation
Water-management, a clean fit and finish are incorporated into the trims. Tabbed trims provide the necessary water-management where it counts to protect your building and siding. 8 degree slopes on the horizontal trim ledges keep your building free of dirt streaks and water collection.
Minimalist Approach
Up to 60% less obtrusive than the competition's folded steel and moldings, Light Trim products strive to enhance the elegance of siding.
Panel trims
Light Trim mouldings for fiber cement panels with a 5/16-inch thickness allow you to achieve an impeccable finish quality while meeting fiber cement siding installation standards.
Each trim has been designed to fit together. Use the complete panel trim collection to greatly speed up the installation process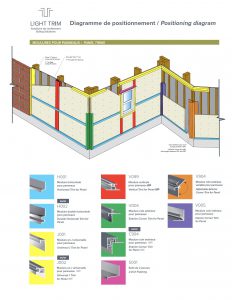 Lap trims
Light Trim mouldings provide a look and finish that is impossible to achieve with folded steel or aluminum.
Flashing and transition trims
Your project can pair fiber cement panels and lap. Light Trim Mouldings has a collection that enables joining two types of finishes.
With 5/16- and 3/4-inch openings, the transition trims allow you to use fiber cement on your entire project while maintaining an attention to detail for a perfect finish.
For more information visit www.lighttrim.com