Quick Menu: Statement Collection    HardiePlank    HardiePanel   HardieSoffit    HardieTrim   James Hardie Website
James Hardie is the undisputed world leader in the manufacturing and development of fiber-cement building products.
HardieZone HZ5
The HZ5 product line lets you sleep easy in climates with freezing temperatures, extreme seasonal temperature variations, and snow and ice. To ensure its beauty matches its durability, James Hardie engineered the surface for higher performance, giving it superior paint adhesion and moisture resistance. So you aren't getting an exterior that performs well in cold, nasty climates. You're getting an exterior engineered just for it.
Whether you have a graceful Victorian, a solid Craftsman bungalow, a cool contemporary dwelling or a cozy cottage home, you have many beautiful possibilities with James Hardie siding.
ColorPlus Technology
ColorPlus Technology is a proprietary process that involves a finish that is factory applied and oven-baked, ensuring consistent coats of vibrant colour that stands up to the demands of the climate.
ColorPlus finishes offer superior fade resistance and are backed by a 15-year warranty against cracking, peeling and chipping.
Statement Collection
Make your home stand out with the James Hardie Statement Collection products. Carefully curated by design experts specifically for our market, the Statement Collection brings together the most popular James Hardie ColorPlus siding and trim styles, textures and colours. The Statement Collection products are fully stocked at Nicholson and Cates for quick delivery.
Click here to see the colours available in the James Hardie Statement Collection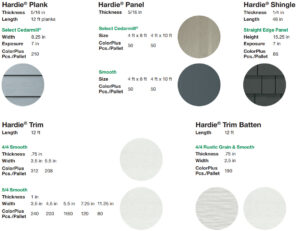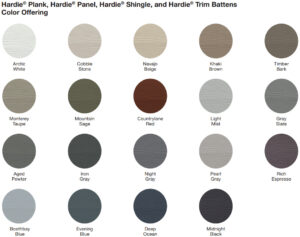 The James Hardie family of products includes:
HardiePlank Lap Siding
HardiePlank Lap Siding is the most widely used James Hardie product and is available in a full spectrum of colours and textures.
It offers protection, durability of versatility for many different styles of homes. The HZ5 product line includes a nail line for ease of installation and a drip edge for improved water management.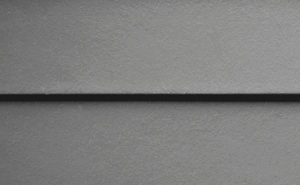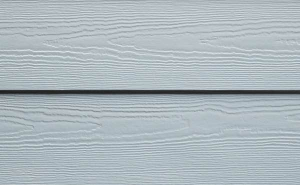 HardiePanel
Hardie Panel vertical siding is available in a variety of sizes and textures. All textures include smooth, stucco, and Cedarmill and are available finished with ColorPlus Technology.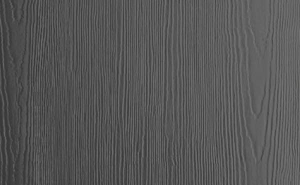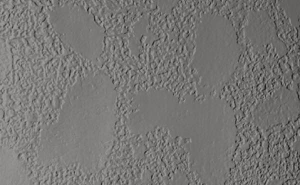 HardieTrim
HardieTrim products are available in 4/4 & 5/4 nominal thicknesses and commonly used nominal widths from 4" to 12".
A wide variety of colours are available to complement the siding selection. HardieTrim products are an excellent choice for fascia, frieze, rake, window, door and corner details. HardieTrim Flat and Corner Tabs can be used to provide concealed fastening. HardieTrim Batten Boards are available to be paired with HardiePanel to create the Board & Batten look.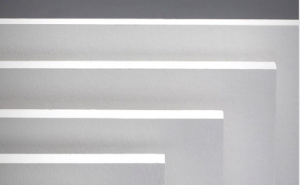 HardieShingle
HardieShingle is designed for sidewall applications, available as straight-edge panels or staggered-edge panels. Whether you are looking for the entire side of your home or accents on gable ends, HardieShingle offers a beautiful look.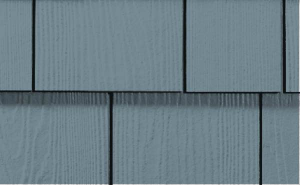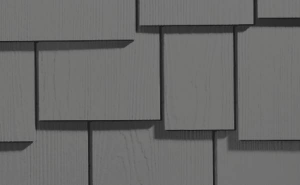 HardieSoffit
HardieSoffit are designed to be used on the underside of eaves as soffit material and are available as vented or non-vented boards. Vented HardieSoffit panels provide 5 square inches of net free ventilation per lineal foot of soffit.
HardieSoffit is available 12", 16" & 24" widths in Smooth finish or Select Cedarmill textured finish and finished with ColorPlus technology.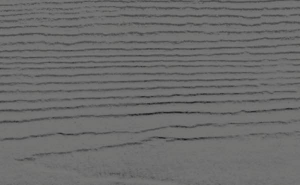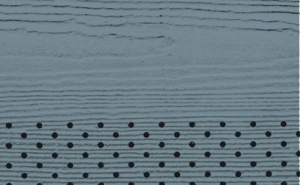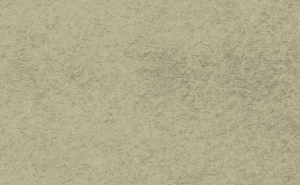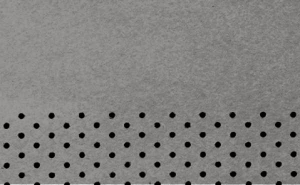 Warranty Information
HardiePlank, HardieShingle, HardiePanel, and HardieSoffit are backed by a 30-year non-prorated, transferable, limited warranty.
HardieTrim is backed by a 15-year warranty.
ColorPlus finishes offer superior fade resistance and are backed by a 15-year warranty against cracking, peeling and chipping.
To get inspired and learn more about the James Hardie products, visit jameshardie.com